January 11, 2023
Bruce Beck Still Wants to Outwork His Competition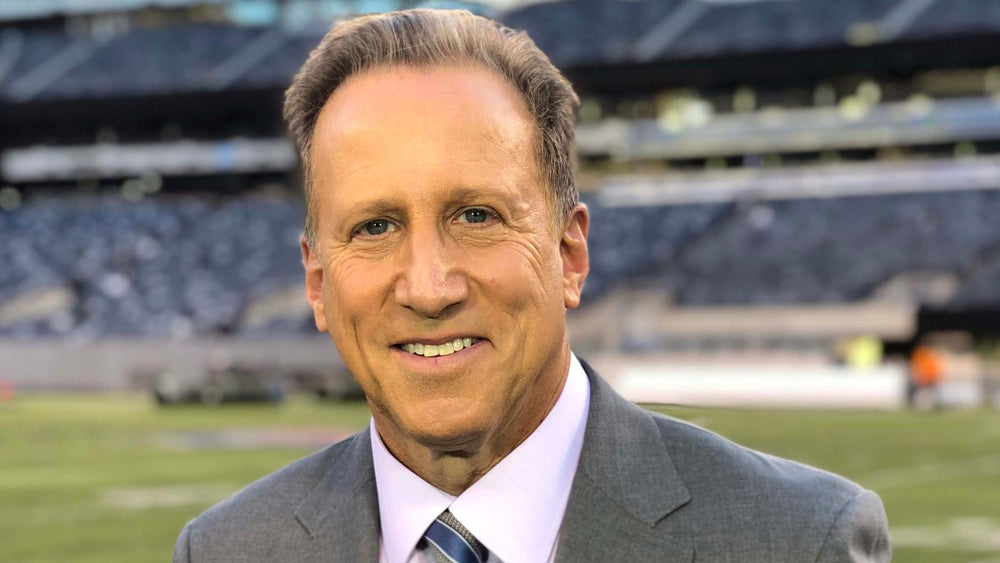 "I certainly wasn't more talented but I just believed you could build relationships and you could outwork people."
Bruce Beck has been to the Olympic Games – but not as an athlete. For 10 different iterations of the heralded worldwide sporting competition and display of cultural diffusion, Beck has been a reporter bringing viewers local and national stories.
Now in his 26th year as the lead sports anchor at NBC 4 New York (WNBC-TV), he has many stories to tell of those experiences, including watching Michael Phelps win eight gold medals in Beijing in 2008, Usain Bolt being victorious in three consecutive 100-meter Olympic dashes, and Sarah Hughes pulling off a shocking gold medal victory in Salt Lake City in 2002. Beck, like these athletes, had a passion for what he was doing and worked hard to refine his talents into an award-winning career in sports media.
"My story's not a perfect story," Beck said. "I'm not as talented as many of these guys in the industry, but I guess I'm a survivor."
Beck's official workplace is 30 Rockefeller Plaza, the acclaimed New York City landmark which headquarters NBCUniversal and the iconic Christmas Tree during the holiday season. Yet Beck often finds himself working remotely, whether that be locally from Citi Field in Queens; Yankee Stadium in the Bronx; or across the Hudson River at MetLife Stadium in East Rutherford, NJ or at national events such as the Super Bowl or Kentucky Derby.
On a day where he is not scheduled to be on-site – well, that can change at a moment's notice because of the unique fluidity of the New York marketplace. "The Big Apple" is home to over a dozen professional teams, many hallmark events and famed college and high school athletics programs.
"Once in a while there's a boring day for the broadcast, but rarely," Beck said. "Something always happens; something always comes up. One of the hardest jobs for me is prioritizing, 'What is the story today?'"
Beck grew up near the New York metropolitan area in Livingston, N.J. and was enamored with sports, along with perfecting his impressions of the local broadcasters. At the age of 8, he began imitating Marv Albert; in fact, he can still recite six commercials he did. When he and his family would play basketball in the driveway, Beck would announce the games in the style of Albert, along with other commentators such as Howard Cosell, Keith Jackson and Marty Glickman.
When there were no sports to consume, he would grab a utensil from the kitchen and commentate his mother's cooking routine, doing anything he could to use his voice and practice the trade.
"She thought maybe I was a little crazy," Beck said, "but maybe she thought I was on to something because she never criticized me; she just laughed."
Beck's first bonafide broadcasting experience was in junior high school when he was responsible for delivering the morning announcements. By the time he was in high school, he was working with the school basketball team, still imitating Albert, and hosting game shows for the team on their bus rides to and from games.
In 1974, Beck matriculated at Ithaca College where he studied accounting and forayed into media-related endeavors on the side. He initially applied undecided though but still found a way on WICB, the school's radio station, for early morning broadcasts and compiled local reports to air on station programming.
Over his time as an undergraduate student, he anchored Sunday night broadcasts and did play-by-play announcing for sporting events on campus while also working as the television sports director in his senior year. He cemented a legacy at the school by being the first nonmajor to win the National Honor Society AERho Award for Outstanding Broadcaster; however, Ithaca College was not his first choice. Beck had hoped to attend Northwestern University but his request for admission was turned down in a letter that remains preserved at his desk.
"When I was the keynote speaker about eight years ago for St. John's University Staten Island Campus… I held it up," Beck said of the letter. "I read from it. I use it as the power of rejection."
Upon his graduation from the school four years later, Beck did not waste any time entering into the professional world in a job with Suburban Cablevision TV3 in East Orange, N.J. The broadcast outlet gave viewers the ability to watch local athletics programming, taping high school and collegiate sporting events and subsequently airing them, utilizing remote production trucks and commentators.
In addition to live games, the channel broadcast talk shows, one of which was titled Time In that was hosted by Beck and another he co-hosted called Scorecard. Eventually, he was working as the assistant sports director alongside Bob Ley, who was the outlet's sports director and the person who initially hired Beck.
Ley, however, departed Suburban Cablevision TV3 in 1979 to be one of the first employees for a new all-sports network called ESPN. It turned out to be the place where Ley primarily worked for the majority of his career, hosting national shows such as SportsCenter and Outside the Lines to millions of viewers around the world.
Meanwhile, Beck, who questioned whether or not Ley had made a prudent decision, had been promoted to sports director. For the next three years, he was working to elevate the channel's sports coverage and manage its team of broadcast professionals as he continued to provide play-by-play commentary for select matchups.
"It built the mechanics and it built kind of the framework for my career today in terms of how much attention to detail I take and how serious I take my preparation," Beck said. "Bob Ley – can you think of a better mentor? One of ESPN's greatest ever in terms of integrity, in terms of broadcasting. I was really lucky."
In his youth, Beck had imagined what it would be like to work with Marv Albert – and those early aspirations turned into a reality when he entered what former New York Knicks public address voice John F. X. Condon referred to as "the magical world of Madison Square Garden."
Stepping into "The World's Most Famous Arena," Beck covered games and worked as an in-studio host for MSG Networks, contributing to events including Golden Gloves boxing, the Millrose Games and the National Horse Show. Additionally, Beck was the primary interviewer for the New York Knicks and New York Rangers, the latter for whom he also hosted television studio coverage.
"I was the youngest guy working on the airwaves in New York," Beck said. "It was the opportunity of a lifetime. I still had a high-pitched voice; I was still far from accomplished but I was able to get reps in a tremendously professional environment and I continued to improve throughout the years."
As a reporter, Beck had the opportunity to interview prominent figures in the world of professional sports including Patrick Ewing, Mark Messier and Bill Russell. Having the ability to elicit thoughtful and cohesive answers from interviewees was always Beck's focus, and although he thoroughly prepared for each interview, there are instances where it was best to go with the flow of the conversation.
"I did an interview with Dennis Rodman at the Garden and I said to him, 'Dennis, this is the best offensive start you've ever had to a season. Are you happy with your offense?'," Beck remembered, "and he said: 'Man, I won't be happy until I'm 6 feet underground.' I took all my notes and I just threw them in the air, kind of, and I just said: 'Why? How come? What made you feel this way?'"
To this day, Beck follows the three principles of interviewing he learned at a young age; these are: (1) – Asking the question everyone wants to know. (2) – Asking the question nobody else will ask. (3) – Deriving a follow-up question based on a previous response.
Effectively interviewing comes from active listening and comprehending answers in the moment to guide the discourse. Similar principles apply when it comes to live game broadcasts in which one duty of the play-by-play announcer is to ensure the color commentator is properly positioned to offer their esoteric knowledge and informed opinions.
No matter the sport – whether it was filling in for Sam Rosen on the boxing broadcast; to calling college football and basketball games; or covering the Yankees in different capacities – Beck was ready for the challenge and to duly perform his role.
"I was always taught that the color man is the star so if you could do a solid job as a professional play-by-play guy and set up the color man," Beck said. "If he had a good broadcast, you had a good broadcast. We had a who's who of announcers that was working for MSG, and I was just fortunate to be around them."
In 1994 at the age of 38, Beck's contract with MSG Networks was not renewed in what could have been a significant blow to his career without his inherent persistence and drive to succeed. In what some might call a devastating setback, Beck, who was disappointed, tried to remain optimistic that he would find a way to succeed.
"Jerry Eisenberg once said to me, and this kind of tied into how to treat people too, 'You better remember us on the way up, because you're sure as hell going to need us on the way down,'" Beck remembered. "He also said, 'If you're always on a high note, when you do come down you're going to have an uncushioned crash.'"
Beck began announcing Ultimate Fighting Championship (UFC) events as one of the promotion company's first announcers, starting with UFC 4 held at the Expo Square Pavilion in Tulsa, Okla. His previous background commentating combat sports also helped land him a gig as a commentator for Showtime Championship Boxing, contributing during the network's fight weeks around the country.
In addition to these jobs, Beck also called harness racing for ESPN, college basketball for Prime Network with Al McGuire and Rollie Massimino and college football and basketball for CBS Sports.
He was often on the move, taking a total of 102 flights in 1997 – some of which he boarded as the jetway was moving away from the terminal – and built what he says was a "mini-empire." Through all the minutiae and spontaneity of his work schedule, Beck focused on embracing new challenges and building relationships in the process.
"I did anything that was asked upon me because it was just a matter of preparing, having great energy and being able to work with your color guy and knowing your material well enough that you could carry a broadcast," Beck said. "It was fun; it was invigorating."
At the same time, Beck was the host of Sports Images and Comcast Sportstalk for CN8 with its studios located in Union, N.J. Working other freelance jobs during the day, he found himself having to race to the studios four nights per week for the latter program and would sometimes arrive two minutes before the show was set to hit the air.
"I believed in outworking people," Beck said. "I certainly wasn't more talented but I just believed you could build relationships and you could outwork people and you could be up at 2 or 3 in the morning and you could study and you could do any assignment."
By the fall of 1997, he received an audition with Dennis Swanson, the president and general manager of WNBC-TV New York, for the role of weekend sports anchor with the network. Shortly thereafter, Beck's "three hard years" ended when he was officially hired by the network. He remains there nearly 26 years later.
"Local reporting [has] changed over the years but the secret sauce really hasn't changed," Beck explained. "The trust of your audience; relationships with those people you cover; and good old-fashioned shoe-leather reporting. Being in the trenches; in the locker room; on the ballfields."
Beck's approach to local reporting is in identifying the key story and finding unique ways in which to present them, doing so in longform on the Sunday night sports show Sports Final. As an employee of a local news affiliate, he seeks to find aspects of sports bridging news in his reporting as well, telling stories to viewers such as New England Patriots owner Robert Kraft obtaining and delivering masks to New York City at the onset of the COVID-19 pandemic.
Stories like that, which were told in the months without live sporting events, helped NBC 4 New York win the prestigious Alfred I. duPont-Columbia University Award for its reporting during the early stage of the pandemic and continues to make the local network a trusted voice in the marketplace.
"You're still covering a multitude of things on a Sunday night," Beck explained, "but you get two, usually, longform stories with a guest that you're going to cover – and that's the way I usually approach it. We've had a lot of athletes; a lot of coaches [and] some of the premier guests around. Other times, I'll get a writer who's covering the team who might have the better inside scoop. We're trying to show depth and we're trying to give [viewers] a behind-the-scenes look."
Over the years with NBC 4 New York, Beck has covered events both near and far with the mission of accentuating local perspectives and giving viewers unique access. The ability to do this, though, comes through establishing and maintaining mutually-beneficial relationships.
For example, Beck visited the home of former St. John's University and NBA head coach Lou Carnesecca where he conducted an exclusive interview with him reflecting on his career. They had fostered a relationship when Beck was hosting Carnesecca's eponymously-titled show on MSG Network.
Although the industry has considerably shifted in terms of the creation and distribution of content, motivated reporters like Beck are resolute in their mission to uncover and present compelling stories – all while being cognizant of their audience.
"You have to be innovative; you have to be creative," Beck said. "I think you have to reimagine, and that's what I've tried to do and that's what I've encouraged younger people to do. You've got to reimagine in today's day and age, but there's still a place in my mind for local news although it's redefined."
As a reporter, Beck's use of social media is an imperative aspect of his job, especially in being able to connect with viewers at a moment's notice. When he is not promoting upcoming broadcasts or breaking news in the field, he uses the platform to break the metaphorical third wall between followers and professional media members. By giving them an inside look as to just where and how he does his job, he communicates and displays the story within the story; a sort of metadrama encompassing the craft.
"Take them to places they can't go, and tell them things about you that they don't know," Beck said. "That's what people want from me on social media. 'Where am I? Am I [in] the Yankee locker room? Is this a cool spot at Dodger Stadium? Let me show them something they can't normally get to.'"
In addition to working with NBC 4 New York, Beck's versatility has allowed him to take on other roles over the years, including an eight-year stint hosting programming on NBA-TV. He currently works with Rutgers University on its digital athletics programming, along with freelancing as a commentator for Top Rank boxing coverage airing on ESPN+. Beck's work ethic and ability to adapt helped him in his quest to succeed in the New York marketplace, interacting with players, coaches and other team personnel to create meaningful, impactful connections.
"I never feel like I can cover everything but I love to be in the field; that's what I'm known for," he said. "I'm known for outhustling people and being at every possible event I can get to, and yet I know I still don't do a good enough job because it's impossible."
Six years ago, Beck pioneered the Bruce Beck Broadcasting Camp, a place for aspiring sportscasters to learn from industry professionals, gain experience in various different roles, and become inspired by the craft.
For the 15 years prior, Beck held a similar broadcasting camp with sportscaster Ian Eagle with attendees including MLB Network host Scott Braun, ESPN NHL reporter Emily Kaplan and NBC News correspondent Jesse Kirsch.
Some of the guests who have attended the program in recent years include MSG Networks/ESPN basketball commentator Mike Breen, NFL on FOX play-by-play announcer Kevin Burkhardt and YES Network reporter Meredith Marakovits. This year's program begins on July 17 and takes months of planning and coordinating for Beck, who is assisted by his wife Janet.
Whether it is mentoring students at the camp or on late-night phone calls on his way home from work; or volunteering with different charities to help those less fortunate, Beck recognizes the value and importance in being a source of goodwill. Even if other people see it as being naïve, Beck continues to find a way to exude a sense of optimism while working in "The City That Never Sleeps" for over 40 years.
"You can't change the world but you can impact lives," Beck said. "….My father and mother taught me [that] receiving is nice, giving is nicer [and] giving back is nicest of all. My parents, who are the foundation for everything that I've ever accomplished; they taught me that and I've tried to pass that on to my two kids and my five grandkids."
In March 2017, Beck was the winner of the Jessica Savitch Award of Distinction for Excellence in Journalism from Ithaca College – his alma-mater. The honor was not only for his career as a multimedia journalist, but also as a source of support and mentorship for aspiring professionals looking to work in sports media. Even though studying in upstate New York was not his first choice, the foundation he built in college and has extended throughout his ongoing professional career is surely deserving of a gold medal.
"It's easy to get up when there's a storyline that changes every day in New York and there are these teams that are striving for excellence that [don't] always achieve it," Beck said. "That drive; there's dreams of success and fears of failure for all of us every day, and I think that drives me and it drives the athletes and it drives the coaches and I think it even drives the fans. I haven't lost it yet; I haven't lost my desire to generate good news, good stories and cover the people that are worthy of it."
--
This article originally appeared here.