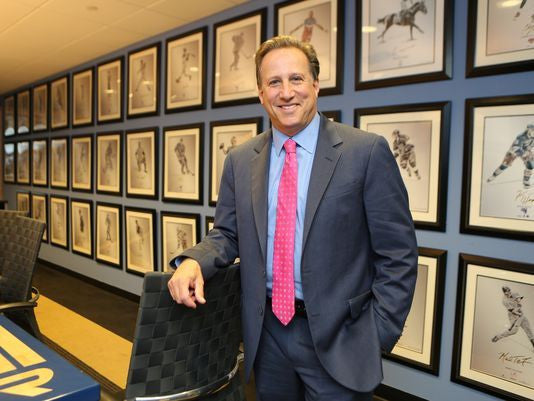 via The Journal News
When Steve Mayer was just a teenager with play-by-play dreams, he earned the privilege of announcing games at his high school in Union, one of the largest in the state. One of the broadcasters whom Mayer idolized at the time worked for the local Cablevision station, TV3, which televised local high school games each week.
One week during the football season, a storm wiped out most of that week's games. Bruce Beck made a last-minute switch and made plans to broadcast at Mayer's high school, only the coach was too busy to meet personally with Beck. Coach recommended a sit-down with Mayer, who he advised "knew everything about the team."
Minutes after he received a surprising phone call at home the Saturday morning of the game, a starstruck Mayer met Beck for breakfast at a local diner. That was in the 1970s. Today, Mayer — now an executive with the National Hockey League — points to the lasting relationship formed that day with Beck as a turning point in his career.
"I owe a lot of my professional success to him," Mayer said.
When it comes to Beck, the Mayer story is actually a fairly common one. Sure, the details vary, but the White Plains resident has maintained his passion for mentoring young broadcasters throughout his 35-year successful career.
Next month, Beck, the lead sports anchor for NBC in New York, will bring that passion closer to his home in Westchester. After hosting a summer broadcasting camp at the Yogi Berra Museum in Montclair, New Jersey, with Ian Eagle, Beck will host the Bruce Beck Sports Broadcasting Camp at Steiner Sports in New Rochelle.
Beck will head a weeklong program from July 24-28 that will include more than a dozen guest speakers, a trip to MetLife Stadium and an opportunity to tape a mock live broadcast at a Yankees game.
"It's nurturing and it's also instructive," Beck said. "At the same time I'm going to challenge them and get them some experience. There are some very talented kids out there. I want to be able to offer them a challenge and try to get them to take the next step."
As of this week, Beck had 33 students (ages 13-19) committed. Several alumni from camps he hosted with Eagle in past years already cover sports professionally for TV networks and radio stations.
One of the more recent campers aspiring to follow Beck is Justin Sweetwood, an 18-year old from New Jersey. He attended five years of the camp and will be a freshman at Northwestern in Illinois this fall.
Sweetwood said he and Beck have shared phone calls and dinner and Beck invited him to NBC. Beck even wrote Sweetwood a letter of recommendation for his application to Northwestern, which was Beck's dream school as a high school student.
"I definitely would not be there without Bruce," Sweetwood said. "He was a huge mentor to me and has done so much for me."
Ed Cohen, one of Beck's proteges, is scheduled to assist Beck during this year's camp. Cohen calls New York Liberty games and college basketball for CBS Sports Network.  He first met Beck in 2000 as a Scarsdale High School senior. After working as Beck's assistant, Cohen, who had already applied to Ithaca College, Beck's alma mater, ended up enrolling there. The two have continued their friendship since.
Some of these relationships Beck has formed are sustained through phone calls or texts. He said he responds to many after he is off the air at NBC late at night.
"He doesn't sleep that much," Cohen said. "But it's great to know that in addition to the time he's put in with his family, he's always managed to make an effort to find time every day to help young people looking to break into the business."
Beck will be introduced to the newest group of aspiring broadcasters next month. In addition to Cohen and Eagle, he has booked guest lecturers, including Kenny Albert and Sam Rosen of FOX Sports and MSG; Jimmy Roberts of NBC; former Giant lineman David Diehl, who now works for FOX Sports; and former Rutgers player Eric LeGrand, who is now a motivational speaker.
"And no one races out of there," Beck said. "They're going to linger and somebody is going to take advantage."
Four decades ago, that person was Mayer. He followed Beck to Ithaca and later to TV3. He stopped broadcasting at 31 and turned to production, which led to his current role of Chief Content Officer with the NHL. Still, he and Beck have stayed close. In March, Mayer introduced Beck as the recipient of Ithaca's Jessica Savitch Award for his broadcasting excellence and the mentoring of future journalists.
"He takes a liking to someone and sees potential," Mayer said. "He's really great at that and you want to run through a wall for the guy. Relationships for him are everything and you want to reciprocate. He understands completely what it takes to do what I think is a great broadcast."
"I really enjoy it," Beck said of teaching. "It's a way of passing it on and fostering opportunities for the next generation of sports broadcasters."