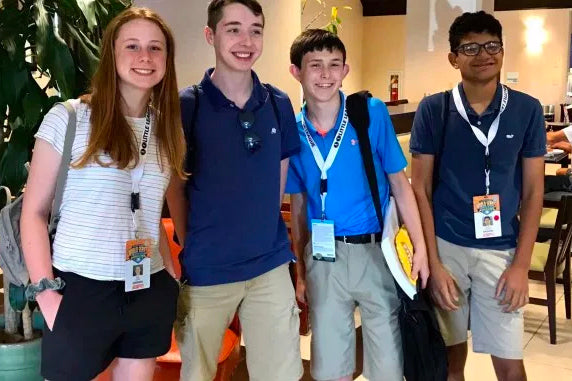 On Wednesday, ESPN tried something new that had never been done before. The big-name sports network decided to roll out a broadcast team of four aspiring teenage broadcasters to call a Little League World Series game between Hawaii and Virginia.
The matchup, which was the 24th in Williamsport this year, was the United States tournament semifinal game, with the winner advancing to the U.S. championship and the loser being sent to a sudden-death game against Lousiana.
Up in the booth, ESPN selected a pair of 16-year-old boys in Aiden Blanc and Eddie Kalegi from the Bruce Beck Sports Broadcasting Camp to sit alongside trailblazer and former Little League phenom, Mo'ne Davis. The trio in the booth did the play-by-play and color commentary while also chatting with Davis about her playing experience and how it related to the kids' action on the field. They also talked about baseball oddities, how they got their starts as broadcasters, and how short Tim Kurkjian is.
Gametime CT's Jeff Jacobs chatted with Blanc a week before his national appearance. Blanc, who has been in Beck's camp for three years, explained how he got his big gig.
"[Bruce Beck texted me and] wanted to know where my dad and I were," Aiden told Jacobs. "I told him we're in the car. So he called and said, 'How would you like to do the Little League World Series on ESPN?' I was shocked. I had no idea."
Blanc said he was told ESPN was "trying to do something like this for years … but no one has been able to do it."
Blanc has spent the past three years in charge of his school's Falcon Sports Network, live streaming more than 100 football, soccer, field hockey, volleyball, basketball, ice hockey, baseball, and lacrosse games on TV or on-demand on YouTube. He has also broadcast American Legion games online for the past two summers. He has also worked at Vantage Sports Network on Fridays during the school year in addition to some public address work for Fairfield American Little League.
Exclusive: Q&A with broadcaster and KidsCast announcer, Aiden Blanc
Kalegi has spent four years at Beck's camp. Kalegi has a history of sports broadcast in his family, as he is the son of former Staten Island Yankees public address announcer Ed Kalegi. "I've been doing baseball all the way back to playing video games since I was four and talking into a little recorder," Kalegi told Greg Tufaro of Central Jersey News ahead of his appearance on ESPN. "I feel like I have a lot of experience. Of course, with this many people watching, it will be different, but I feel comfortable and I think I'll be able to handle this challenge."
Down on the concourse level, two 15-year-olds from the Beck camp were doing the dirty work as the reporters for the broadcast. Zoe Alter and Rahill Jaiswal talked about everything from funnel cakes and Cracker Jacks to the sledding on the grassy hill beyond center field. They also chatted with spectators, parents, players, and other relatives about the action of the night, as well as the whole event.
Exclusive: Q&A with broadcaster and KidsCast announcer, Zoe Alter
The quintet of teens earned loads of praise from adults and kids alike who watched the game live on ESPN2. While there was an alternate broadcast playing on ESPN with the usual adult broadcasters, it's safe to say the uniquity of the KidCast and the poise and knowledge of the youth counterparts on ESPN2 gained much more attention and praise.
Listening to espn 2 alternative "Kidscast" of LLWS semi's. MLB should give 16yr old @aiden_blanc10 a contract now. Kid is scary good.

— Barry Morris (@BarryBmorris) August 22, 2019
I'm telling you... the fools @espn finally got it right! #KidsCast is fantastic TV! @LanceMcAlister @MoEgger1530 - you boys better stay sharp! These kids are coming for you! Just awesome - even Monet who was first girl to win a LLWS game! So talented! pic.twitter.com/yWC3SJKvKI

— Jeff Beckham (@Jeff_Beckham) August 22, 2019
Even ESPN's Karl Ravech, who was calling the game on ESPN's alternate broadcast, gave a shoutout to the kids and encouraged viewers at home to check out the KidsCast.
While I appreciate the respect, I agree with Steve and encourage you all to check out the kidscast on ESPN2. https://t.co/ARyWYBrhzP

— Karl Ravech (@karlravechespn) August 21, 2019
"Little League Baseball appeals to everyone — kids and adults alike. It is a family affair. The energy and vibrance is unmatched," Bruce Beck, the longtime sports anchor and founder of his broadcast camp, said, as relayed by Front Office Sport. "There is a purity to the game. And the only predictability of the game itself is the unpredictability of the outcome."
ESPN has not commented on whether or not the KidsCast will return next season, but one thing is for sure: these kids dominated on ESPN2 Wednesday night and they are going places. With help from Beck and his colleagues, the four campers have some very promising careers ahead of them.
--
This article originally appeared on The Fan Source Network here.